Have you begun using the most effective marketing tool ever created? A marketing tool that your customers have on their tips all the time, a tool on which they depend on for the right answer, and whose suggestions they trust?
We speak, of course, about Google!
Think about it. How many times do we use Google to find a good coffee place in a new neighbourhood, or a hardware shop when the regular one is closed, or even a good restaurant for a date night?
Google seems to have the answers to all our questions, and we can't imagine life without it.
As a business owner, you want your service and product to be visible and available to every customer. Google brings together more customers on the same platform with the business than any other marketing tool, and it does that for FREE.
Google can connect every user that searches something about your product or service. The more frequently your business's names comes up on Google, the more people will come trickling in to try your products, that too without any extra effort on your part!
If you're aren't listed on Google Maps yet, you are missing out on a major marketing outlet and limiting your business. After all, when somebody searches your product or service, what name do you want to rank? Yours? Or your competition?
Listing your business on Google is a simple activity, and we explain it in easy-to-follow steps below. Although simple to do, a professionally done setup will attract far more customers and do wonders for your online presence, giving you the edge against your competition.
That said, here are the steps for creating your free Google My Business account laid out for you in detail:
1. Finding Your Business
The first step is to check whether your business is already listed on Google Maps.
Open Google My business, and click on 'Manage Now'. You will be asked to sign in if you haven't already.
*'Google My business' is the official suite provided by Google which combines Google Maps, Google Search and your website into a complete picture for your business.
You will be re-directed to a new window where you can enter the name of your business.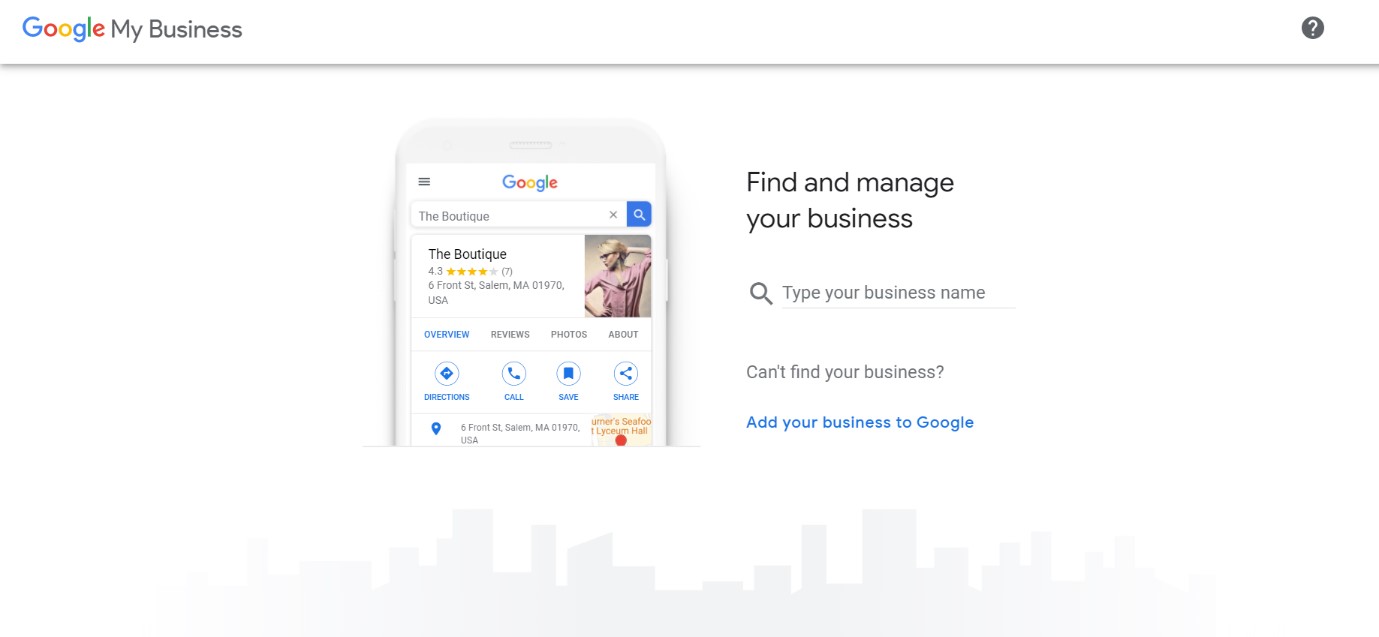 Write down the name of your business in the space provided. As you type, you will be shown suggestions of businesses that already exist on Google.
If you spot your business along-with its correct address in this list, click on it. You will be directed to a page with details of the business you selected. If this business is yours, click on Manage now, and go to Step 4.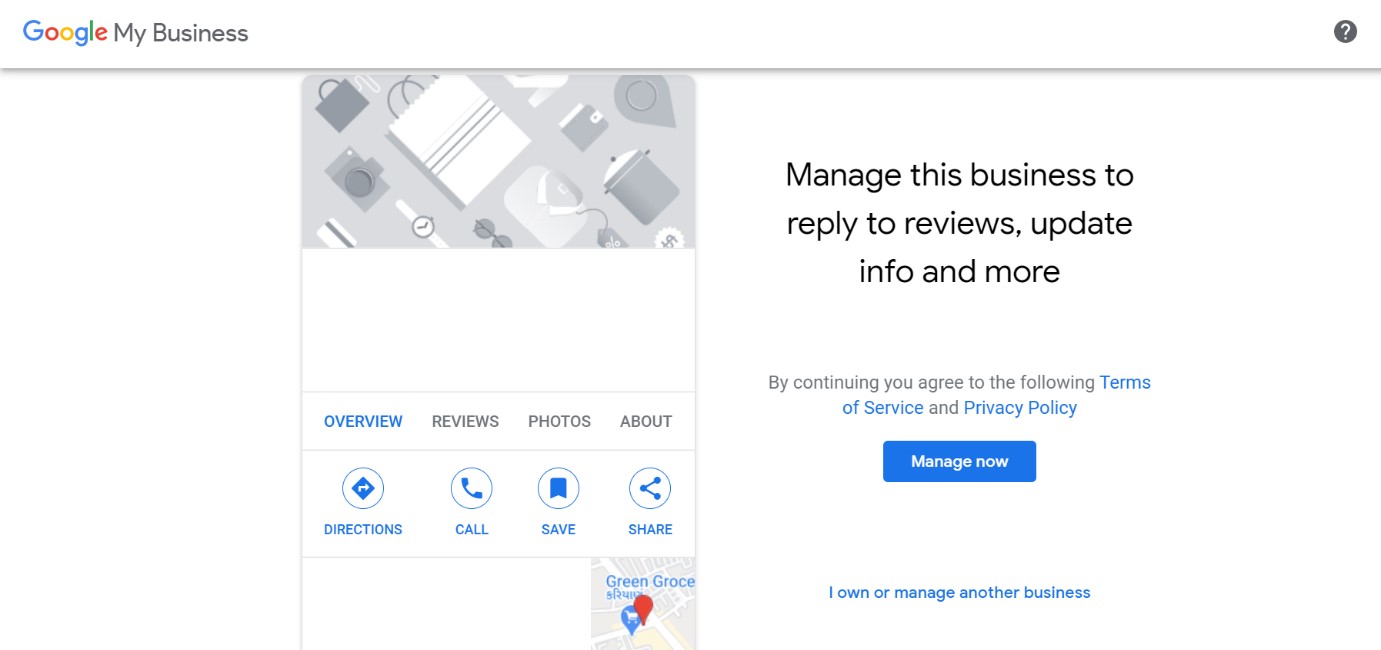 If you were unable to spot your business, continue onto Step 2.
2. Claiming What's Yours
If you were unable to spot your business, click on the 'Create a business with this name' or 'Add your business to Google' button as shown below.
As an example, we have taken LocalSearchNinja as the name of our business.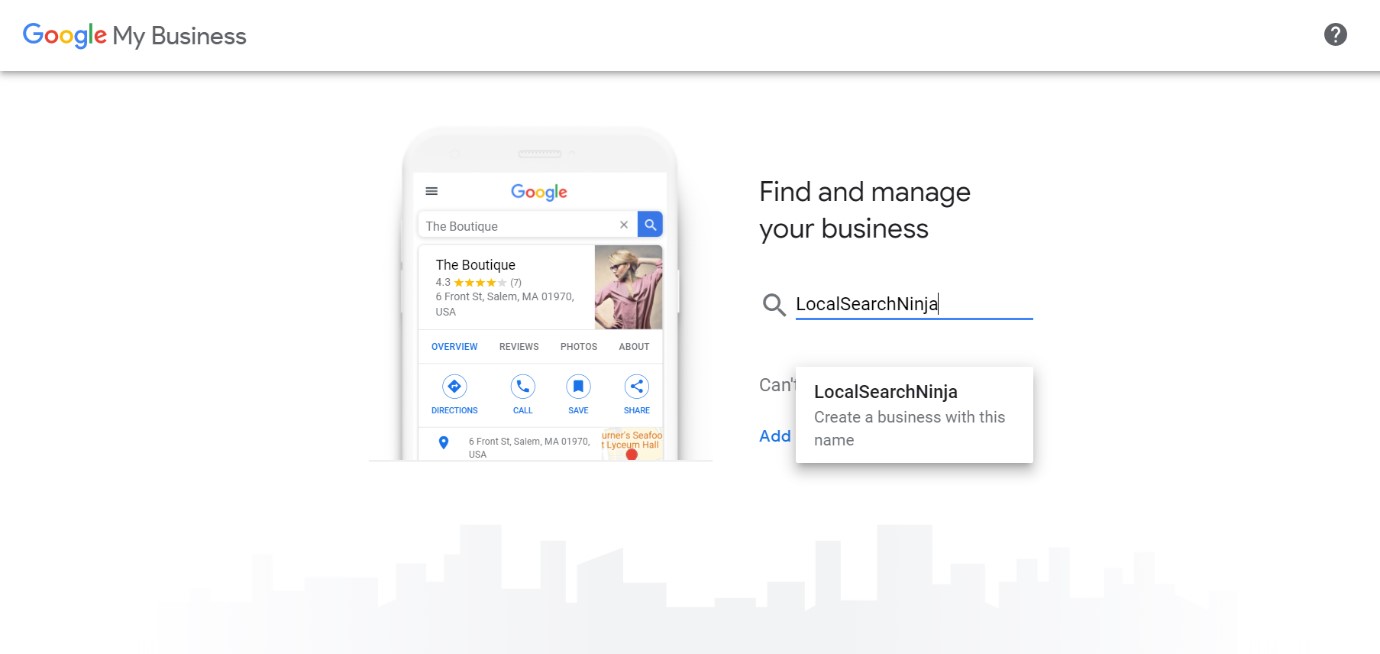 You will be prompted to enter the name of your business. Write down the name of your business exactly as you want it to appear on Google. This can be changed later too.
Read the Privacy Policy if you want and Click 'Next'.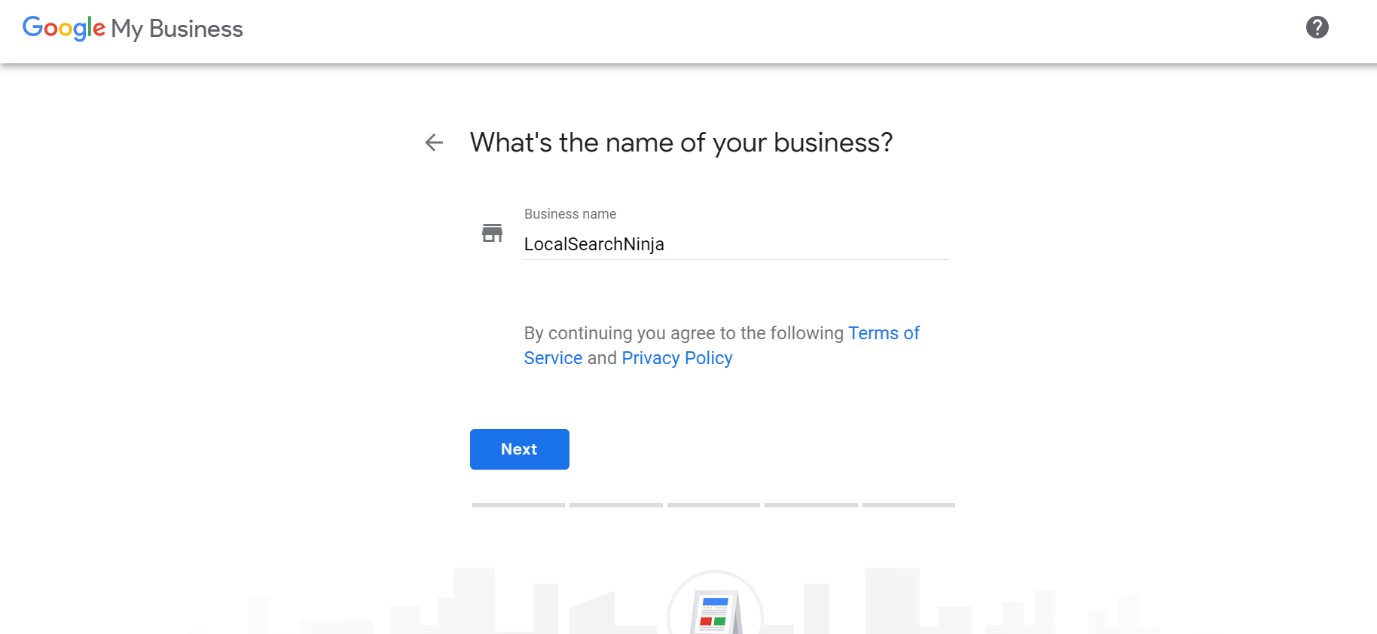 Next, you will be asked to enter the 'Category' your business falls in. This will be broadly defined, so choose accordingly. We choose 'Restaurant' just as an example here.
The category you select will help Google suggest your business to customers looking for a product or a service in that particular category. Once you have selected the appropriate category, Click 'Next'.

You will now be asked about the location of your business. If your business has a physical location it operates from, choose Yes. For Restaurants and other brick-and-mortar shops, this step will be important, as it lists you onto Google Maps for your customers to find.
However, if you operate out of a private residence, choose 'No', unless you expect customers to visit your location for your service/product.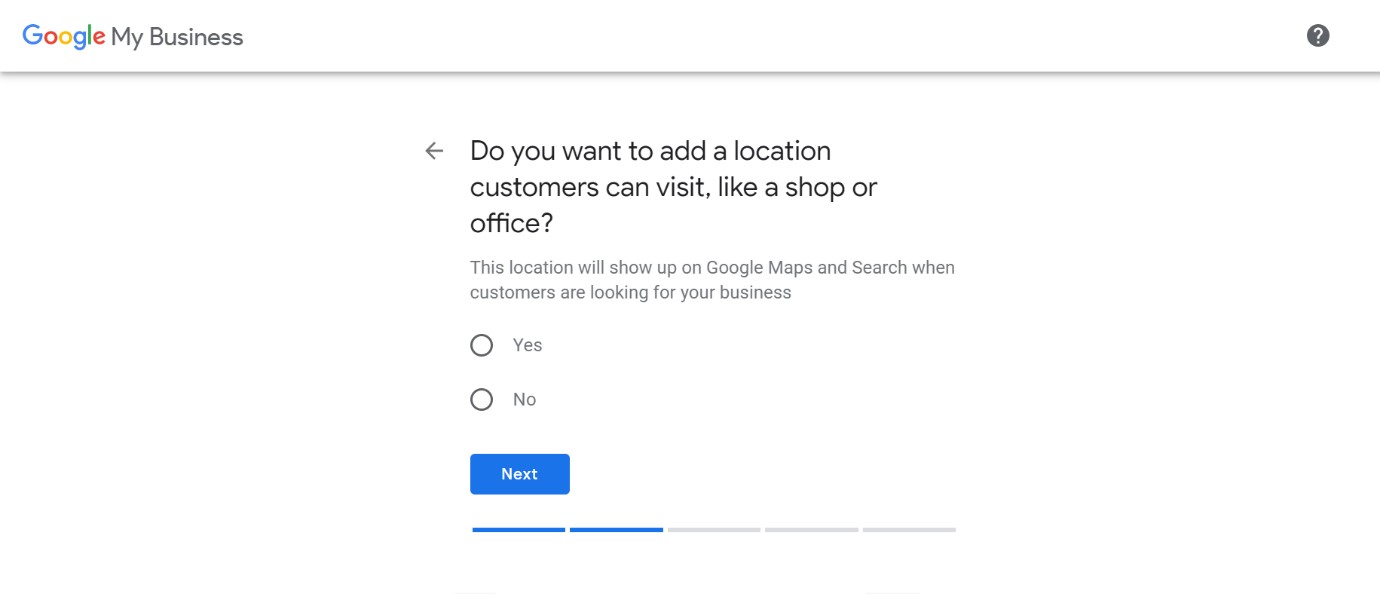 If you chose 'YES', you will be asked to enter the street address of your business. If you choose 'NO', continue from Step 3).
Enter the address for your business and click 'Next'.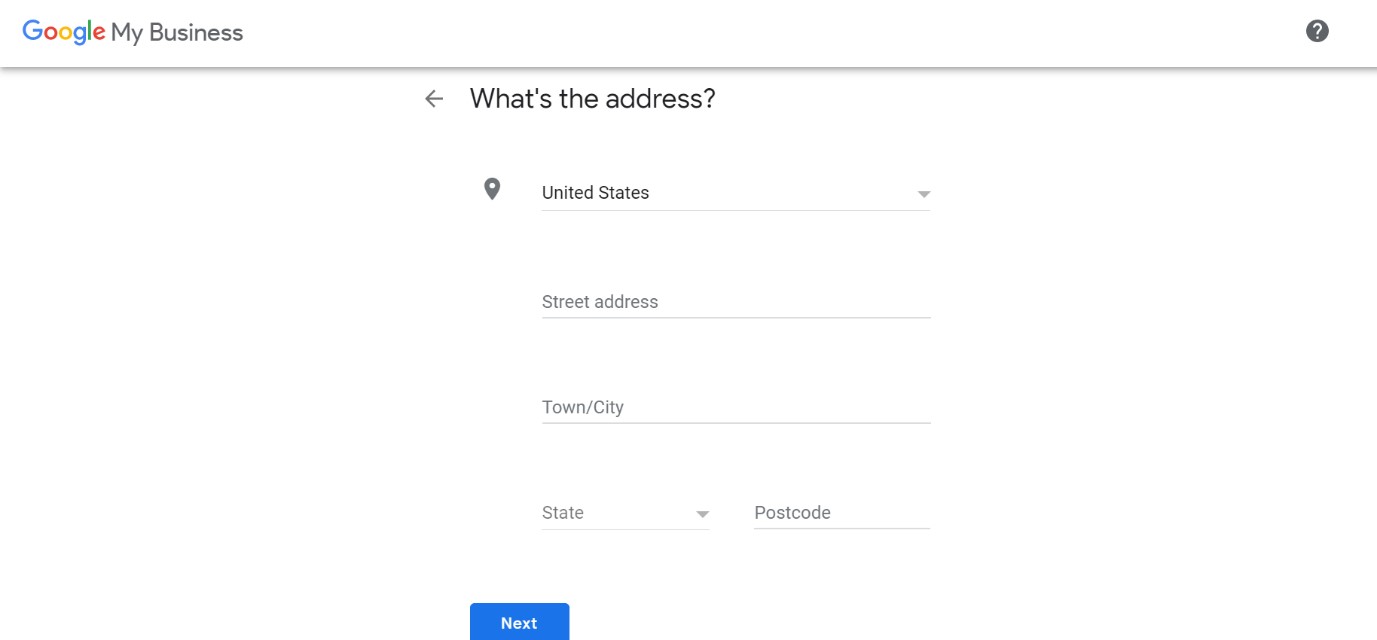 Next, you will be prompted to drop a pin onto the exact location of your business.
Make sure you do this perfectly, since this will indicate to customers where your business can be found. In places with a lot of shops and businesses placed together, a well-placed pin will be very important!
Click 'Next' once you have pinned the correct location.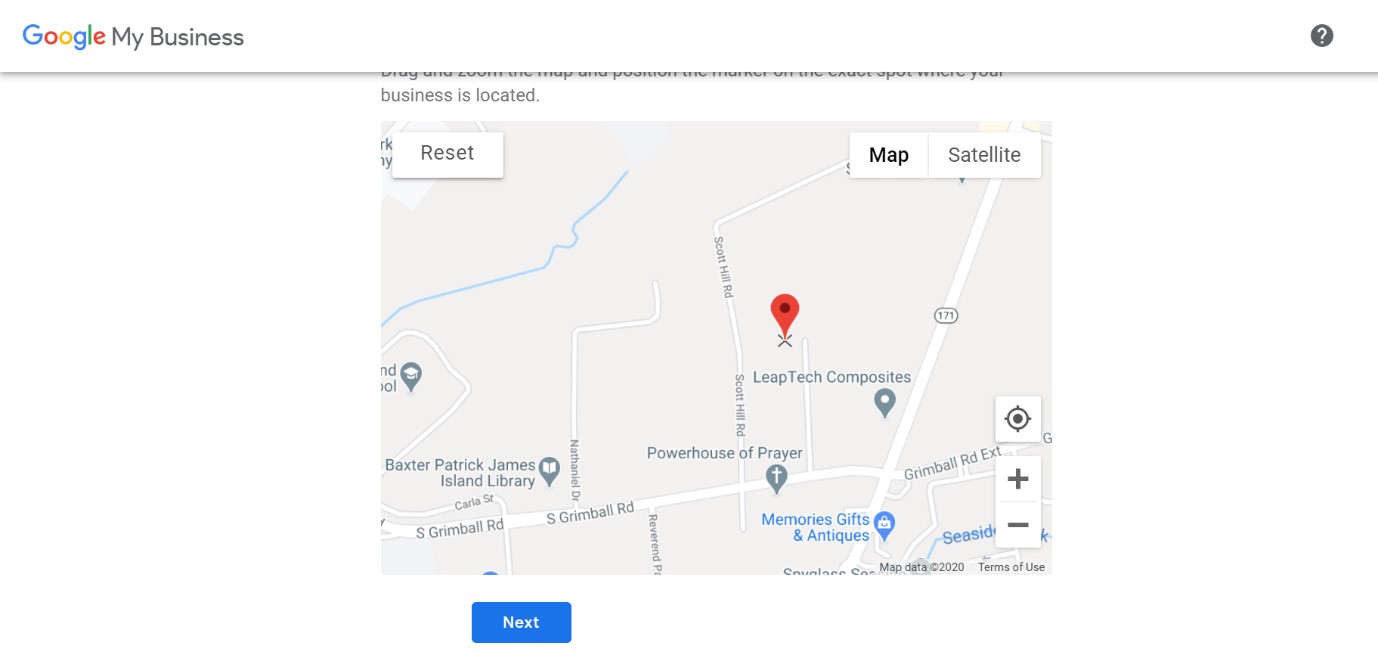 You will now be asked whether you are able to serve customers from cities other than your own. At this step, ensure that you add all the cities your supply chain can reach.
This will drastically increase your potential customer base by making you visible in searches done by people outside your business location.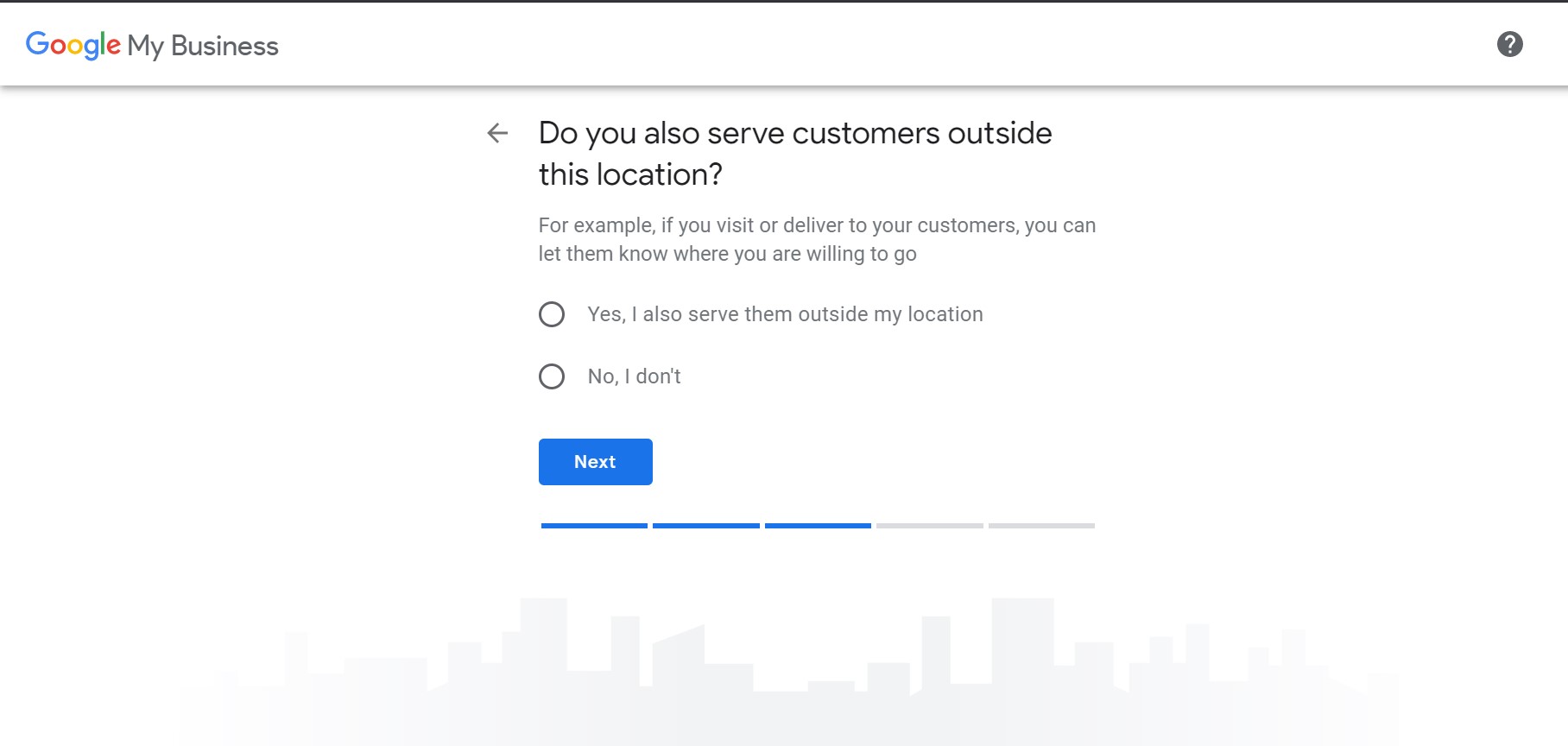 Clicking 'Next' completes the 'Google Maps' part of listing your business.
3. Getting In Touch
You will now be prompted to enter the contact details for your business. It is recommended that your website details are also added at this stage, in order to integrate your website with your Google listing and boosting traffic to your site.
This step is optional, and you can always update your details later.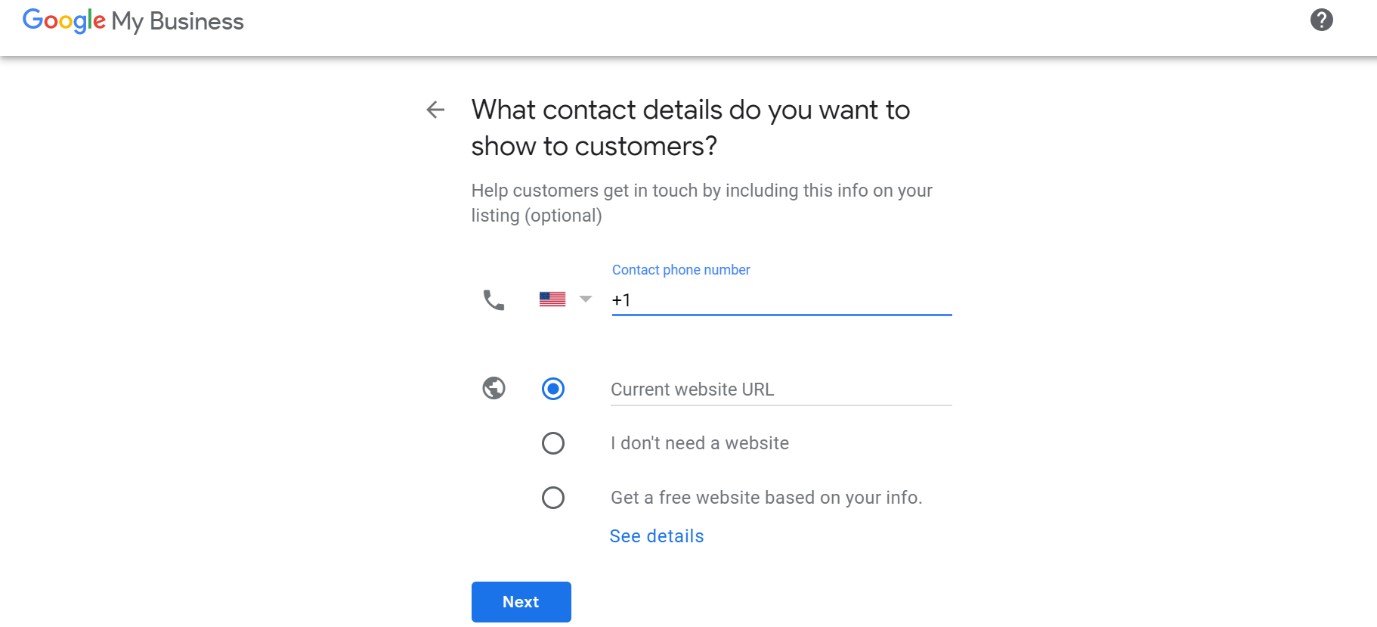 Submit the contact details, and you'll be greeted by the finish Screen!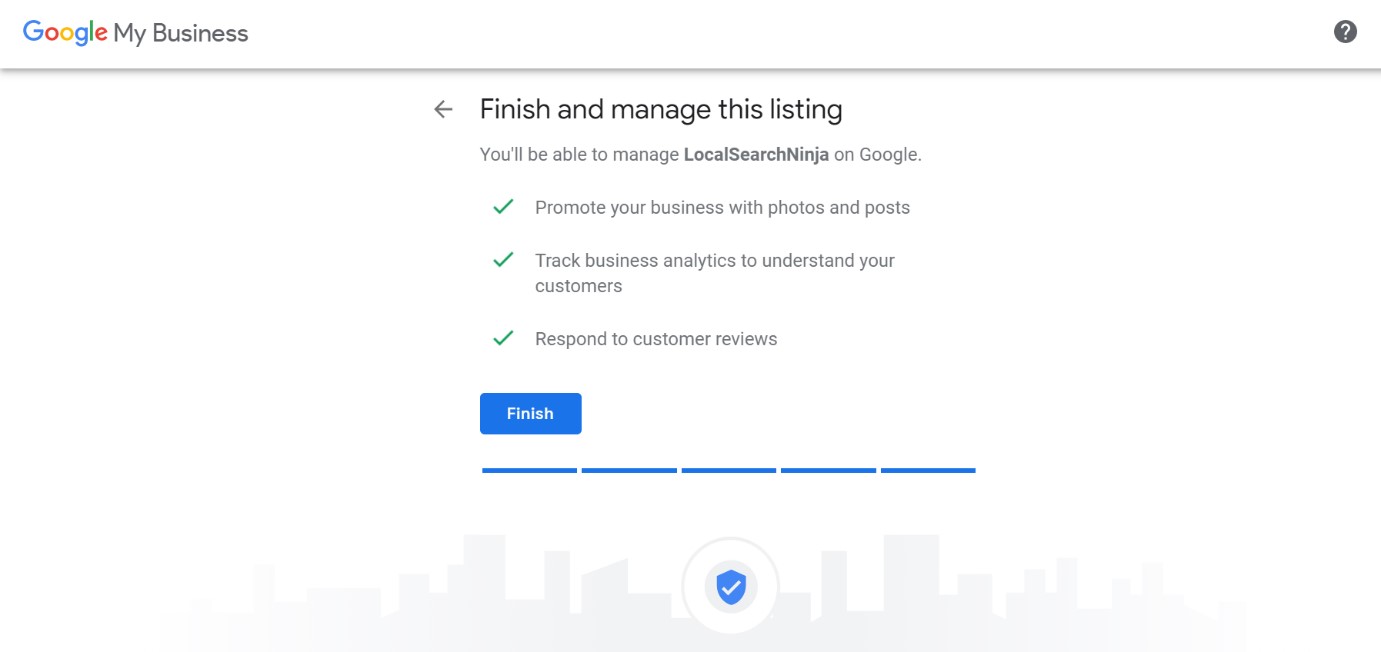 Press 'Finish' to proceed.
4. Making It Official
We're not done yet. The final step is to get Verified on Google. Google needs to verify the physical address your business exists on before it can list you online.
This is usually done through postcard by mail.
Write down your contact name and click on 'Mail'. The address written below your business name is the address Google has registered for you. (We just used an example here for demonstration).
Following this, you will receive a postcard on your business address, with instructions on how to verify your business listing. This postcard usually takes 5-6 days, but may take up to a week or more depending on the location of your business. (You can take this time to prepare your online marketing strategy, of course.)
Next, you will be led to a screen asking you to select the 'Working Days' of your business. Be aware that Google Maps will show a "Closed" message on your Google business listing on your day off.
Once you have entered your working days, Google will ask you a variety of different questions based on your selected category to let customers know more about your business.
For example, choosing 'Restaurant" as your business category in the second step will bring up questions regarding your Restaurant Specialities, Menus, photos and other aspects of your Restaurant. Fill all the details you are able to, and continue.
Completing all the above steps will lead you to your personalised "Business Dashboard".
Congratulations. You are now the proud owner of a business enlisted on Google. Your products and services now have access to a whole new audience!
Through this dashboard, you can control all aspects of your business listing, and truly personalize your online listing and make it much more appealing to the customer
Use the dashboard to:
Read and Respond to reviews
Use Google Analytics to gauge customer interest in your business (Find out more here)
Share offers and news with your customers
Manage Bookings/orders.
Add pictures and descriptions, along with other relevant information
Google My Business (GMB) is a powerhouse in itself, and an excellent tool to build your presence among customers.
Getting your business verified and online is a big moment for any business owner, but your work has only just begun.  Like all marketing tools, simply using the tool does not guarantee you results. Not understanding the mechanics and the systems involved in the background of marketing will give you average results at best. It is usually when such tools are combined with the right kind of skill, that businesses are able to drastically increase their customer base and gain an edge.
Running an online marketing front will only get more important in the future, as we move toward a world where constant internet connectivity will become the new normal. The right time to begin is now.
Want to begin your online journey but got too much on your plate? We've got you covered! Online Marketing requires a mix of a smartly created profile coupled with a little bit of SEO magic. That is what we do!